St.Rita of Cascia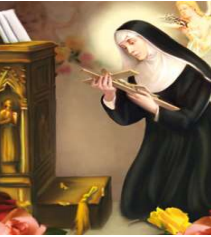 Wife, Mother, Widow, Nun
1388 – 1457
Feast Day – 22nd May
Early Years
Rita was born Margherita Lotti in 1381 to parents, Antonio and Amata Lotti in the small village of Roccaporena (near Cascia) in Umbria, Italy. Her parents were already advanced in years when Rita was born and considered their daughter as a special blessing. Following the example of her pious parents, she was an obedient, humble and prayerful child and by the age of twelve wished to become a nun.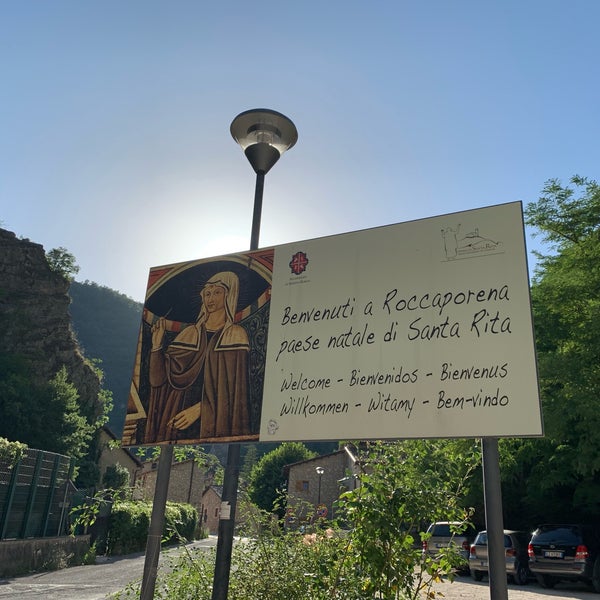 Marriage

As according to the custom of the time, her parents arranged a marriage for Rita. She consented to her parents' wishes and decided that this was God's plan for her. So, at a young age she married Paolo Mancini, a young man of a reasonable standing in the community.
In due course, the couple had two sons, Giovanni and Paulo. Rita, as a wife, mother and homemaker lived a virtuous life with a great love for God. Her prayer, patience and humility not only enabled her to handle the difficulties of life, but also to assist her neighbours in both spiritual and practical ways. Despite her exemplary life, Rita was not able to avoid tragedy.
Tragedies
Unfortunately Paolo, upon returning home one day became the victim of an assault and died. There is divided opinion among historians as to how Paolo died, but rivalry between a couple of families and their followers were not uncommon in towns during those times and Cascia was no different.
Rita was left a widow with two teenage sons. Though Giovanni and Paulo had grown in virtue under the care and guidance of their mother, the tragedy of their father's death had an effect on them. Rita became concerned that her sons would be involved in seeking revenge for the death of their father. Her solution was to pray. Finally, her prayers were answered when her two boys suddenly became ill and died. Despite Rita's immense grief, she was able to thank God that her sons had died in peace and without the guilt of murder.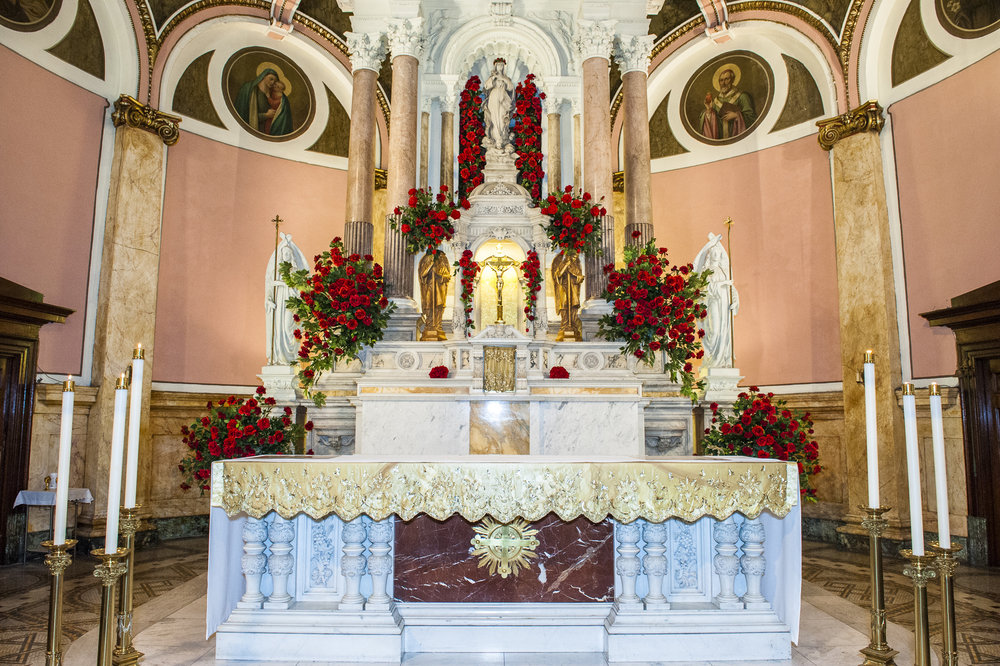 Monastery
Without family to care for, Rita's desire from her childhood to join the monastery returned. She approached the Augustinian Sisters at St. Mary Magdalene Monastery, Cascia. As her husband died amidst family disputes, the nuns had concerns and denied Rita's admission into the monastery.
Rita's determination to join the Augustinian Sisters did not waiver. She called upon her three patron saints, St. John the Baptist, St. Augustine and St. Nicholas of Tolentine to come to her aid. She began to build peace between the feuding families of Cascia. When that had been achieved, her prayers were answered and she was accepted into the Augustinian community of the St. Mary Magdalene Monastery.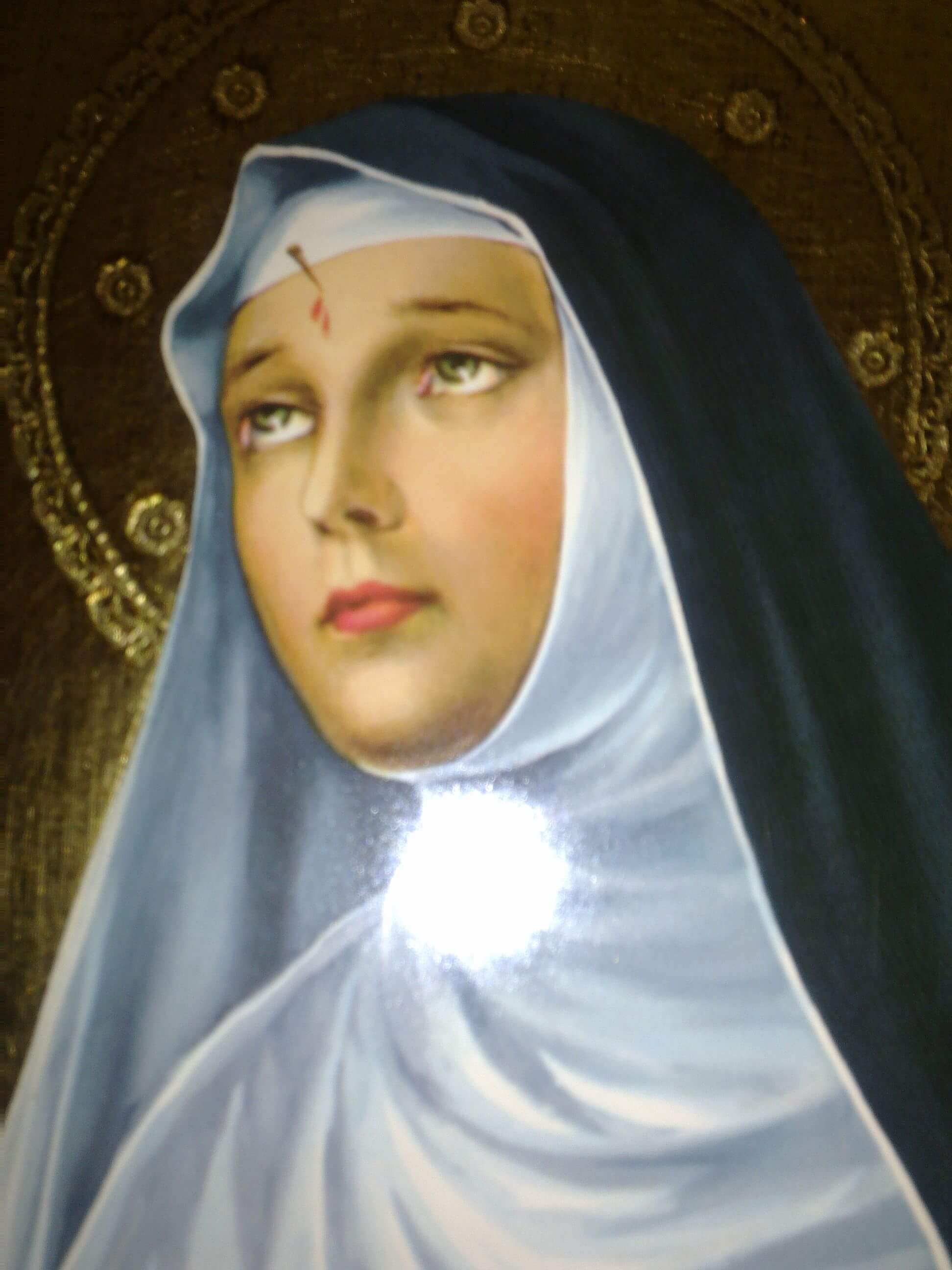 Stigmata
After making her vows of obedience, poverty, and chastity, Rita continued with her love of prayer, works of charity, encouraging peace in the township and a special devotion to the Passion of the Lord. She longed to become closer to the redemptive suffering of Jesus. Eventually, one day as she was meditating before an image of Christ on the Cross, she developed a wound on her forehead, as though a thorn from Christ's Crown of Thorns had pierced her. This stigmata she bore for the remainder of her life – an outward sign of her union with Christ. Despite bearing this suffering, she was always patiently caring for others until she became bedridden. From her bed, her virtues still shone forth and were obvious to all, both her religious sisters and all who visited her.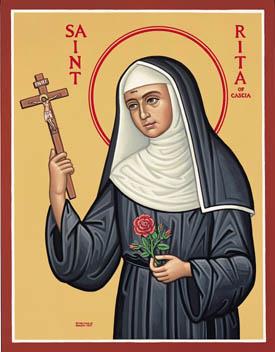 The Rose
Before Rita's death, a cousin who was visiting asked if she could do her a favour. She requested a flower from her parents' home in Roccaporena. It was January and her cousin doubted that a rose would be blooming in winter, but Rita said to her, "there is nothing impossible to God." So, she dutifully went to Rita's former home, where she found a rose blossoming in the snow and brought it back to her cousin who was filled with joy.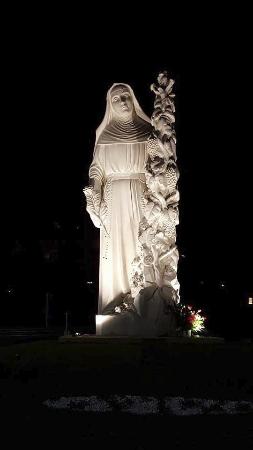 Returned to God
Rita offered these parting words to her fellow sisters before her death, "May God bless you and may you always be in the holy peace and love of Jesus Christ." After 46 years in the Augustinian Monastery, Rita died in 1457 at the age of seventy-six.
Sainthood
Rita's body still lies in an incorruptible state today at a Shrine in Cascia (pictured below). After many miracles, she was canonised by Pope Leo XIII in 1900.
Saint Rita has become known as the 'Saint of the Impossible' due to her powerful intercession. Her virtues of loving your neighbour and loving devotion to the crucified Christ are fine examples for us all.