The Archdiocese of Brisbane holds that children, young people and vulnerable adults are a gift from God with an intrinsic right to dignity of life, respect and security from physical and emotional harm.
They are to be treasured, nurtured and safeguarded by all. This policy applies to Clergy, Religious, Staff, Parishioners, Volunteers, students on placement and Visitors to our sites.
The following link has more information including Policy documents and a message from Archbishop Mark Coleridge- https://brisbanecatholic.org.au/support/safeguard/
For safeguarding inquiries or to raise any concerns, disclosures or allegations please contact our Local Safeguarding Representatives: Bob Snoke on 0419 247 698
STOPline Service Ph:1300 304 550 Email: AOB@stopline.com.au Website: www.bnecatholic.stoplinereport.com 
Mass Times
5pm Saturday Vigil Mass
7am Sunday
9am Sunday
9am Mass Mon, Tues, Wed and Fri (Holy Hour on Fri)
Please see Mass & Liturgy Times for detailed Info
(including our Bay Islands Mass Info)
Parish Priest and Staff
Parish Priest: Fr. Ladu Yanga
Dean of Redland: Fr. Ladu Yanga
Parish & Deanery Secretary: Angela Dodd
Safeguarding Administrator: Angela Dodd
Finance Secretary: Beverley Van Schie
Sacramental: Jennifer Fielding
Safeguarding Representative: Bob Snoke
Parish Details
37-39 Benfer Rd, Victoria Point QLD 4165
PO Box 5285 Victoria Point QLD 4165
Telephone: (07) 3207-9177
LOCATED BEHIND THE TOWNHOUSED NEXT TO 
ST RITA'S PRIMARY SCHOOL
PARISH OFFICE HOURS
Monday to Friday 9:00am – 2:00pm
St Rita's Catholic Parish
Latest News and Events
Funeral Notice - Eddie Dunne
A Celebration of the life of Eddie Dunne will take place at 11am
Monday 25th September 2023 at St Rita's Parish.
---
Sacrament of Confirmation - Renewal of Baptismal Promises and Presentation of the Creed 2023
Congratulations to the children who renewed their Baptismal promises and received copies of the Apostles and Nicene Creeds on the weekend in preparation for their Confirmation next month.  May you always stay firm in your Faith and belief.
---
St Rita's Men's Social Group September 2023
St Rita's Men's Social Group met on 7th Sept to view some past history which we all lived through – the Gold Coast development in the 1960s onwards, the introduction of decimal currency in 1966 and the life and times of Clem Jones. Lots of memories and discussion points. Also enjoyed muffins and scones with jam and cream provided by Marilyn Duggan
---
Spiritual Gifts Workshop
Spiritual Gifts Workshop 
Saturday 23rd September 9am-11:45am
God's Love
Salvation
The New Life
Transformation in Christ
Saturday 30th September 9am-11:45am
Baptism of the Holy Spirit
Transformation in Christ
Spiritual Growth
Contact Angela Clarke to register 0407 674 373
(Morning Tea Provided)
---
Vote for Siobhan Wilson in the Westfield Local Heroes Awards.
Please vote for Siobhan Wilson in the Westfield Local Heroes Awards.

Siobhan is a finalist and now goes into the draw to win $20 000 towards more pack for kids of trauma.

https://tinyurl.com/Vote-for-Siobhan
---
SCAM ALERT!!!
SCAM ALERT: Please be aware that scam SMS text messages are supposedly being sent from the priests of our Archdiocese (including Fr Ladu). If you receive one, please don't reply. The priests don't need Amazon gift cards or anything else that they are supposedly requesting. It's a scam.
If you are unsure, please contact the Parish Office 3207 9177
---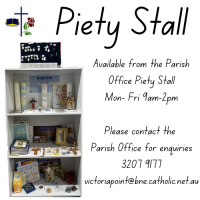 Piety Stall
The Piety Stall is located at the St Rita's Parish Office and is available Mon - Fri 9am-2pm.
The Parish Office does not have EFTPOS facilities, however cash and Bank Transfer is accepted.
Please call 3207 9177 for any questions.
---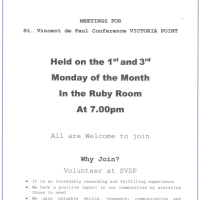 St Vincent de Paul Society
Meetings for St Vincent de Paul Conference Victoria Point held on the 1st and 3rd Monday of the Month.
Held 7pm in the Ruby Room (of the St Rita's Parish Office Building) 
ALL ARE WELCOME TO JOIN
WHY JOIN?
Volunteer at SVDP
it is an incredibly rewarding and fulfilling experience
we have a positive impact in our communities by assisting those in need
we gain valuable skills teamwork, communicaiton and problem solving
we meet new people, a great way to socialise and have fun while doing something good for others
---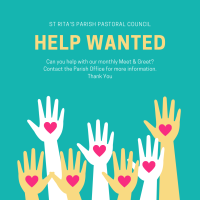 HELP WANTED
The PPC is reaching out asking if anyone can help with monthly Meet & Greet events? Please contact the Parish Office for more information.
---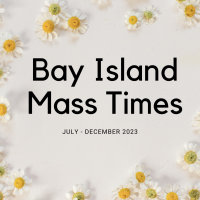 Macleay & Russell Island Mass Schedules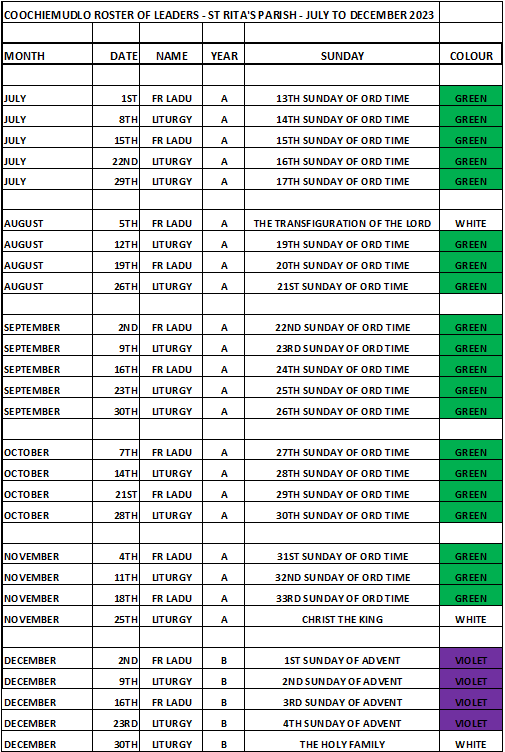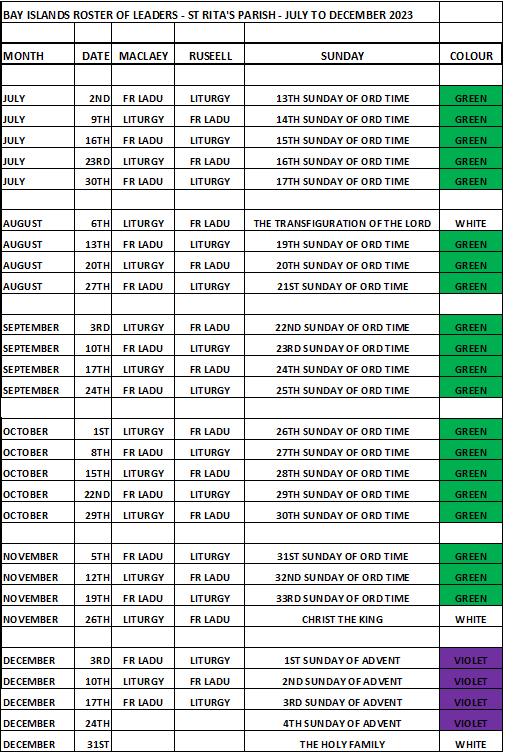 ---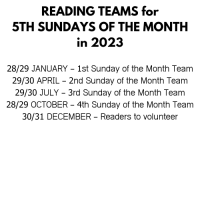 Sunday Reading Teams for 5th Sundays of the Month 2023
28/29 Jan            1st Sunday of the Month Team
29/30 April          2nd Sunday of the Month Team
29/30 July           3rd Sunday of the Month Team
28-29 Oct            4th Sunday of the Month Team
30/31 Dec           Readers to volunteer
---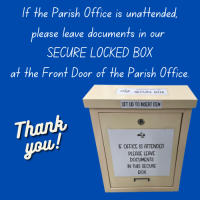 Parish Secure Locked Box
If the Parish Office is unattended, please leave documents in out SECURE LOCKED BOX at the Front Door of the Parish Office.
Thank you